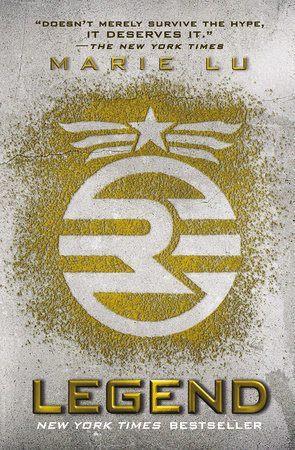 legend by marie lu
pages: 305
published by putnam juvenile on 29 november 2011
genres: young adult, dystopia, science fiction, romance
rating: ⭐️⭐️⭐️⭐️.5
What was once the western United States is now home to the Republic, a nation perpetually at war with its neighbors. Born into an elite family in one of the Republic's wealthiest districts, fifteen-year-old June is a prodigy being groomed for success in the Republic's highest military circles. Born into the slums, fifteen-year-old Day is the country's most wanted criminal. But his motives may not be as malicious as they seem.

From very different worlds, June and Day have no reason to cross paths—until the day June's brother, Metias, is murdered and Day becomes the prime suspect. Caught in the ultimate game of cat and mouse, Day is in a race for his family's survival, while June seeks to avenge Metias's death. But in a shocking turn of events, the two uncover the truth of what has really brought them together, and the sinister lengths their country will go to keep its secrets.
*spoiler free review*
okay first of all, why did i take so long to finally read this?? oh and guess what, i'm back to blogging for the time being until school starts again haha. i went into this book with low expectations because i thought it was going to be just another typical YA dystopian book (don't come @ me) but i finished this feeling extra satisfied and craving for more. needless to say, almost immediately after finishing legend, i started reading prodigy. but i'm here to talk about legend so let us get on with it.
"Each day means a new twenty-four hours. Each day means everything's possible again. You live in the moment, you die in the moment, you take it all one day at a time."
i really enjoyed the world building and the plot in general. this dystopian setting was honestly quite cool but also at the same time really cruel haha, with the trial (which i'm assuming it's like the SATs?? i don't take them since i don't live in US so idk haha) and the plague and just the republic's tendency to killing people. i found the book to be well-paced with its fair share of action-packed scenes too. marie lu's writing was also great and captivating, considering that i couldn't put the book down because i needed to know what happened next hahaha. well, i did wish we got a little more information regarding the political situation like what exactly are the main motives of the republic, colonies and patriots. hopefully we'll get to explore that further in the next installments.
"What a joke! Poor little rich girl's fallen in love with the Republic's most famous criminal."
our two main characters are day and june whom i have immense admiration for because they're so badass despite being only fifteen (fifteen!!). i gotta admit, i found myself forgetting that they're only fifteen given their situations but i guess the environment does a great job in shaping people, in this case especially. marie lu does an amazing job with these two characters to portray the evident class system gap in legend. day and june are from two different worlds, with day struggling to keep alive in the slums whereas june has led a privileged life in the wealthy districts.
i was a little apprehensive towards june at first (obviously) because she's after day but she has definitely gone through significant character development. i kinda disliked her for the whole betrayal thing even though i knew that would happen because it would make no sense for her to fall in love with day and abandon her desire to avenge her brother's death. oh and what are the odds that two extremely smart and good-looking fifteen year olds cross paths and fall in love?? (not that i'm complaining haha)
"If you want to rebel, rebel from inside the system.That's much more powerful than rebelling outside the system."
and then we have the side characters. i love the sibling relationships in this book because they're just so wholesome and at times, heart-wrenching. i felt bad for day because he didn't get enough time with his brothers 😦 john's actions at the end of legend was so devastating askdjbh!!! june and metias's relationship was also really nice to read about given how close they were since they had only each other to rely on.
if i had to pick one character to kill off, it would definitely be thomas. WOW. i honestly can't stand the way he treats day and the other poor people in general. he was such a snob and rude yet he does not see how horrible and wrong he was behaving. it would probably make sense if he did grow up among the wealthy hence the prejudice, but nope. he clearly stated he was poor once so who gave him the right to look down on others. ugh. it wouldn't be the worst if something bad does happen to him in the rest of the series.
the friendship between day and tess was so cute and wholesome too. i really enjoyed the scenes where they're plotting crimes and overall mischief in general haha. the issue about tess's near-sightedness though, because do glasses not exist in this dystopian society?? (okay as i'm writing this i'm realising that maybe they couldn't afford glasses oop) but bruh how is she still able to survive without glasses because i definitely couldn't hahah. i need her talent thank you very much.
---
have you read legend? what are your thoughts about it (and the rest of the series)?